About Tourism and Hospitality Management
The Department of Tourism and Hospitality Management started its journey as the youngest new department of WUB under the Faculty of Business Studies from summer semester in 2013 with only 9 students in its 1st batch of BBA in THM program. The department was established to facilitate the students to study Tourism and Hospitality which is now considered to be the most important, prospective, promising and fast growing industry of the country for contributing to economic emancipation by earning both home and foreign exchange.
Since its inception, the department has been moving fast towards excellence under the leadership of Honorable Vice Chancellor of the university Prof. Dr. Abdul Mannan Choudhury and Head of the Department of Tourism and Hospitality Management, Dr. Selim Ahmed.
The vision of the department is to promote leadership in Tourism and Hospitality industry for contributing to economic emancipation. The mission of the department is to become the center of excellence for enabling the students to flourish their potentials to contribute scientifically to both national and international tourism and hospitality market and to serve the nation through utilitarian education on Tourism and Hospitality industry at affordable cost.
As of today, the department has a handsome number of students and a handful number of faculty members with outstanding academic background who obtained their degrees from renowned universities of home and abroad. The curriculum of BBA in THM program has been designed in such a way so that it can meet the demand of the time and the faculty members are very much committed to impart quality education and practical knowledge to the students in the respective fields. Although the department has a rich lab for food and beverage production and service yet it signed MOU with Tony Khan Culinary Institute and Hotel Management and Regency Hospitality Training Institute for conducting practical classes effectively by skilled, efficient and experienced teachers of the institute.
The department has been running in a professional manner to ensure conducive learning environment. The students are encouraged to unfold their potentials by taking part in games and sports and cultural and different extracurricular activities through different clubs of the department and of the university.
About World University of Bangladesh
World University of Bangladesh (WUB) established under the private University Act, 1992 (amended in 1998), approved and recognized by the Ministry of Education, Government of the People's Republic of Bangladesh and the University Grants Commission (UGC) of Bangladesh is a leading university for utilitarian education. The University is governed by a board of trustees constituted as per private universities Act 2010 which is a non-profit making concern. The university is a member of the Association of Private Universities in Bangladesh, Association of Common Wealth Universities and Quality Assurance & Improvement Council and appears in the worldwide listing of universities by the UNESCO.
Although the formal approval to start operation of the World University of Bangladesh was received on February 26, 2003, the ground work for the university began in early part of 2000, Now the university on entering its 10th year of operation has all needed infrastructural facilities and highly qualified teachers in its 3 faculties and 11 departments with 24 programs at day and evening.
World University of Bangladesh is destined to provide utilitarian education for economic emancipation without undermining the national ideals and aspirations and is authorized to offer courses and award degrees, diplomas, certificates on its own. At present it has credit transfer arrangements and academic collaborations with some universities in UK, USA, Australia and the Caribbean.
The university had its first convocation on 28th October 2008, where 782 students received degree from the Hon'ble President of People's Republic of Bangladesh and Chancellor of World University of Bangladesh. (also see our website: www.wub.edu.bd). As many as 2300 students are now ready for conferment of degrees in the up-coming convocation. None of its degree holders is unemployed implying its emphasis on quality education with utilitarian bent.
This university is the pioneer in introducing degree programs for the Diploma Engineers; B.Sc. in Mechatronics Engineering (MTE) & Master of Business Education (MBE) in this part of the world. The MTE program also known as electro-Mechanical engineering in few western countries is a synergistic combination of a number of basic engineering and administrative courses. As such, it is a highly demanding course at home and abroad. The MBE program is meant for people destined to make career in teaching of business related subjects and for those willing to make a career in practical business world in short span of time. We have few Institutes and various types of collaboration programs. All of our programs are approved by the UGC. We publish some journals which have earned appreciation at home and abroad.
Vision
Department of Tourism and Hospitality Management strive to become a model of excellence for high quality education and research program in areas of Tourism and Hospitality.
Mission
The department is keen on keeping high standards and excellence in performance by providing students with high quality education and academic enlivenment to develop professional managers and leaders needed in the business of tourism and hospitality industry which is the highest and the fastest growing in the world.
Goals and Objectives
To prepare qualified and trained personnel to work in the sector of tourism and hospitality.
To introduce the history and development of the tourism industry and its importance in the world.
To make able to understand and expose the economic importance of tourism and hospitality industry.
To contribute towards developing new segments in the sector of tourism and hospitality.
To understand rules and legislations which govern the industry of tourism and hospitality.
To make able to utilize of information technology in the industry of tourism and hospitality.
Values
THM values are a set of five values-based principles that lead the School to fulfill our Vision and mission. We transform lives while instilling these values in students in an effort to prepare the leaders for tomorrow's world. The goal is to produce graduates who are responsible leaders and stewards for the companies and destinations where they work and live. Our values guide our teaching and research, as well as the focus of the school. The five core values are as follows:
Ethics– Distinguishing between behavior that is right and wrong, the basis for good action and provides a framework for judging actions that are questionable. Ethical behavior means striving for actions that are deemed "good" based on principles and values, making such principles and values explicit and rendering the processes that leads to decisions transparent.
Knowledge–The knowledge creation process includes creativity, critical thinking, and networking for change and innovation through complex cognitive processes of perception, reasoning, learning, communication, association and application.
Stewardship– Implies that the earth is a divine gift which we are permitted to use and take care of it for the benefit of future generations. Leadership in three distinct aspects of stewardship: sustainability, responsibility, and service to the community. Responsibility for the environment & society and power to influence sustainability.
Professionalism– Professional skills, competencies or standards associated with a profession, attitude and behavior that reflect these. Professionalism incorporates leadership, practicality, attention to services, concern for the relevance and timeliness of evidence, reflexivity, teamwork and partnership building skills, and pro-activity.
Mutuality– Diversity, inclusion, equity, humility, collaboration. Mutual respect is seen as a value grounded in human relationships that requires attitudinal developments that are evolving, dynamic and involve acceptance, self-awareness of structural inequalities, open-mindedness, empowerment, and ability to revisit one' cultural understanding of the world.
Labs Facilities
Well-equipped class rooms and state of the art labs and modern teaching aids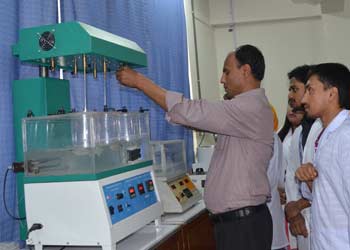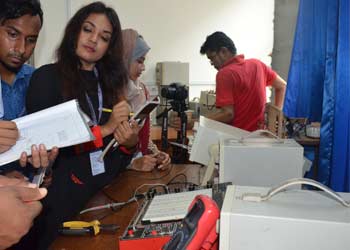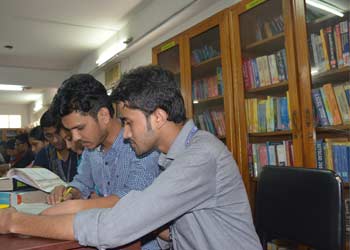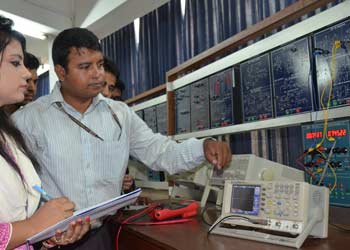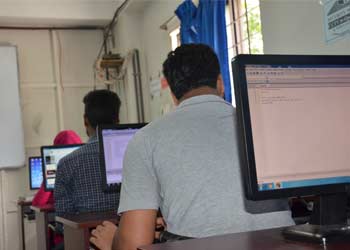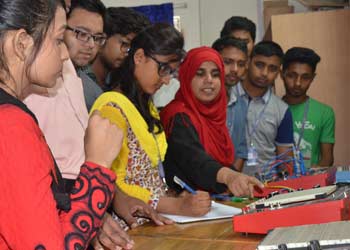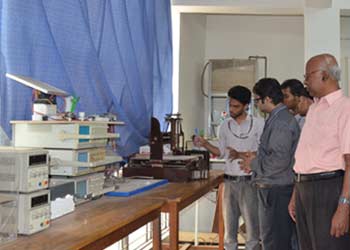 WUB Lab Pictures
Others Facilities
Student Scholarship
Remedial English course till students attain fluency
Remedial course for Business world
Student-friendly fee & Payment system
Different performance based scholarship and stipend
Well-equipped class room
State of Art labs and modern teaching aids
High quality faculty members
Teaching with full time faculty members supplemented by guest teachers from industry arena
Special weavers of fees for wards of freedom fighters and selected others