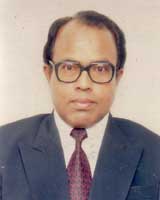 Professor M. Moqbul Hossain
PROFESSOR M. MOQBUL HOSSAIN
( M.Com in Management, University of Dhaka)
HEAD OF THE DEPARTMENT
TOURISM AND HOSPITALITY MANAGEMENT DEPARTMENT
Tourism has become an increasingly important sector that has great economic impact on a country development. The appeal of a destination and the efficiency of the service industry are the lures that attract visitors to a country. For many regions and countries including Bangladesh, it is becoming one of the most important sources of income generation and job creation.
Our program is designed to equip students with a strong understanding of not only theories and concept, but most importantly the essential skills needed to operate in this dynamic industry. Pursuing the Tourism and Hospitality courses at Department of Tourism and Hospitality, students will also greatly benefit from quality academic and industry-relevant program; and experiencing first-hand in Bangladesh, the vibrancy of service industry professionalism as a regional hub for business and leisure travelers.
At Department of Tourism and Hospitality Management, we provide market relevant and high quality academic program that is articulated with tourism and hospitality industry. While studying with us, students work hard, played equally hard by participating in all our departmental events and activities. Studying here is nothing short of fun, students are often engaged in an engaging and enriching learning environment, and most importantly well supported by our industry experienced lecturers.
Recently, we organized various events to enhance our students' knowledge such as "Career Planning in Tourism and Hospitality Management" "Ethical Issues in Career Development" "How to Build Successful Career in the Global Marketplace", and "Effective Time Management for Students". In addition, we organized some extra ordinary study tours to refresh students' mind such as "Shillong a beauty queen of Meghalaya", India, "Panam City, Sonargaon, Narayanganj", " Baliati Jaminder Bari, Manikganj" and "Bangabandhu Sheikh Mujib Safari Park, Gazipur". Apart from the student activities, we have collaborations with Regency Hospitality Training Institute (a sister concern of Dhaka Regency Hotel & Resort), Dhaka Resort, Hotel Sea Palace Limited, Ratnodweep Resort, and others to create job opportunity for the graduates after their graduation.
Furthermore, our students participated in different events in national level and they became successful such as winners in the ACE -1st International Education & Cultural Carnival Bangladesh 2017 at Daffodil International University and also in the Business Innovation Summit 2018, reached to top ten among 900 teams from whole Bangladesh. Through our student various achievement, we formed WUB Tourism and Hospitality Management Club for betterment of the student engagement and various university activities by using their theoretical innovative knowledge and their implication in pragmatic university life.
As a head of department, I would like to express my appreciation to the members of my academic and administrative staff teams that have served our department with passion. May God give all of us strength to make our vision and mission in reality.